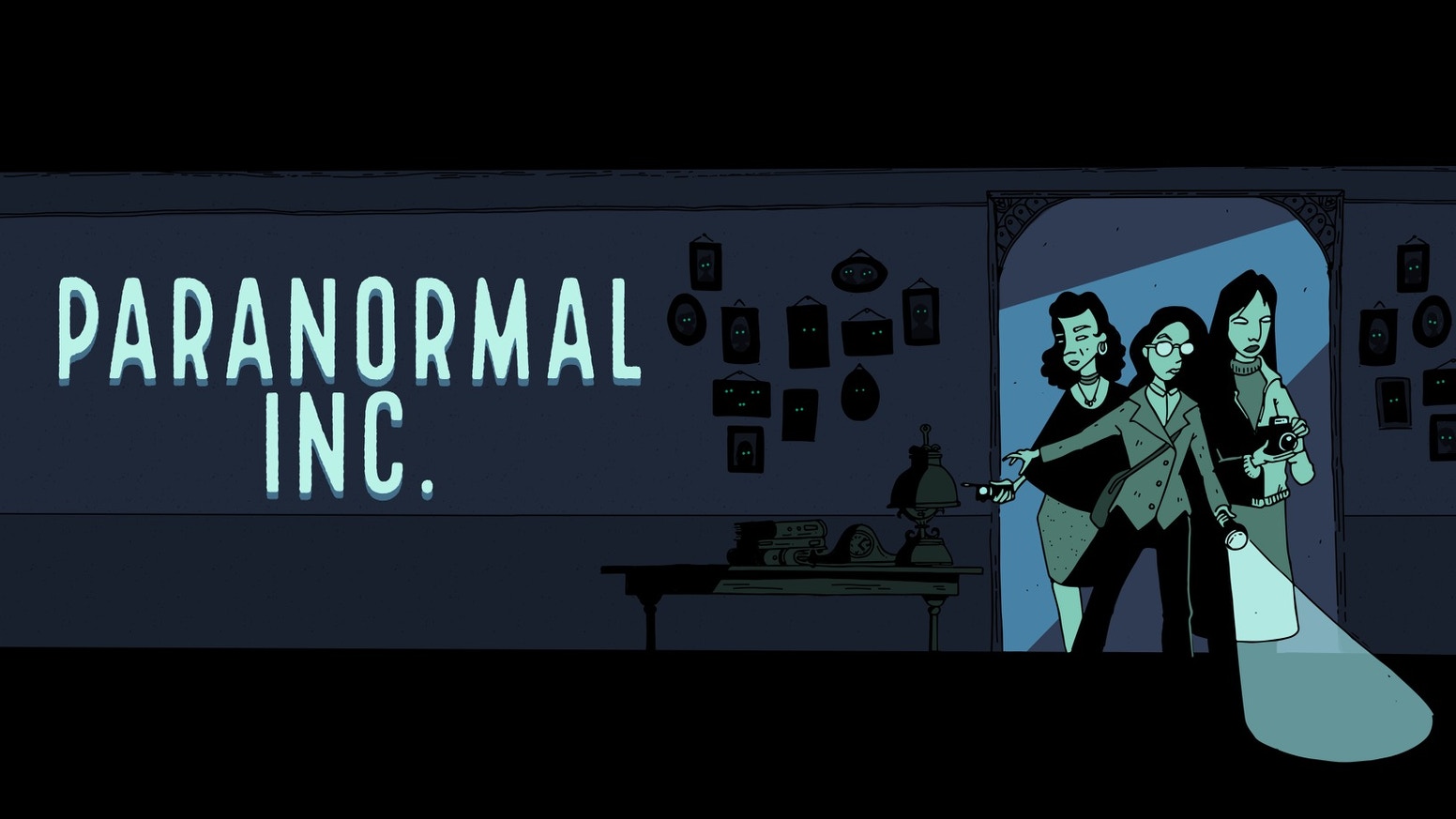 Paranormal Inc.
One day, the dead started returning to haunt the living. This was, as you would expect, somewhat disruptive to society. People started looking for ways to get rid of the ghost nuisance in their lives. Requests for paranomal investigators sky-rocketed.

But times change. People adapt. Now, you are a struggling paranormal investigator with Paranormal Inc. doing your best to keep the equipment working, the lights on, and your belly full.
Paranormal Inc. is a gm-less tabletop roleplaying game for 2-5 players. It uses a standard deck of cards and some 6-sided dice to generate a world for you to explore and solve mysteries in.
Paranormal Inc. is a game about solving mysteries, struggling under capitalism, and making connections with living and dead alike. It's a game about pushing through your own personal hauntings to help others.
Paranomal Inc. is a Carved from Brindlewood game. Brindlewood Bay is a cozy mystery game by Jason Cordova. Think Murder She Wrotes meets eldritch horrors. Paranormal Inc. takes the base engine of Brindlewood Bay, and turns it into a game that doesn't require a Game Master. Gather your friends and your supplies, and start telling your story together.
Paranormal Inc. uses a standard deck of cards to generate locations, paranormal events, NPCs, and clues for a scene. This allows players to create a world together without the need for a GM. Players can choose from 1 of 6 playbooks to give their Investigator a unique feel: the Scientist, the Skeptic, the Medium, the Intern, the Bookworm, or the Ghost.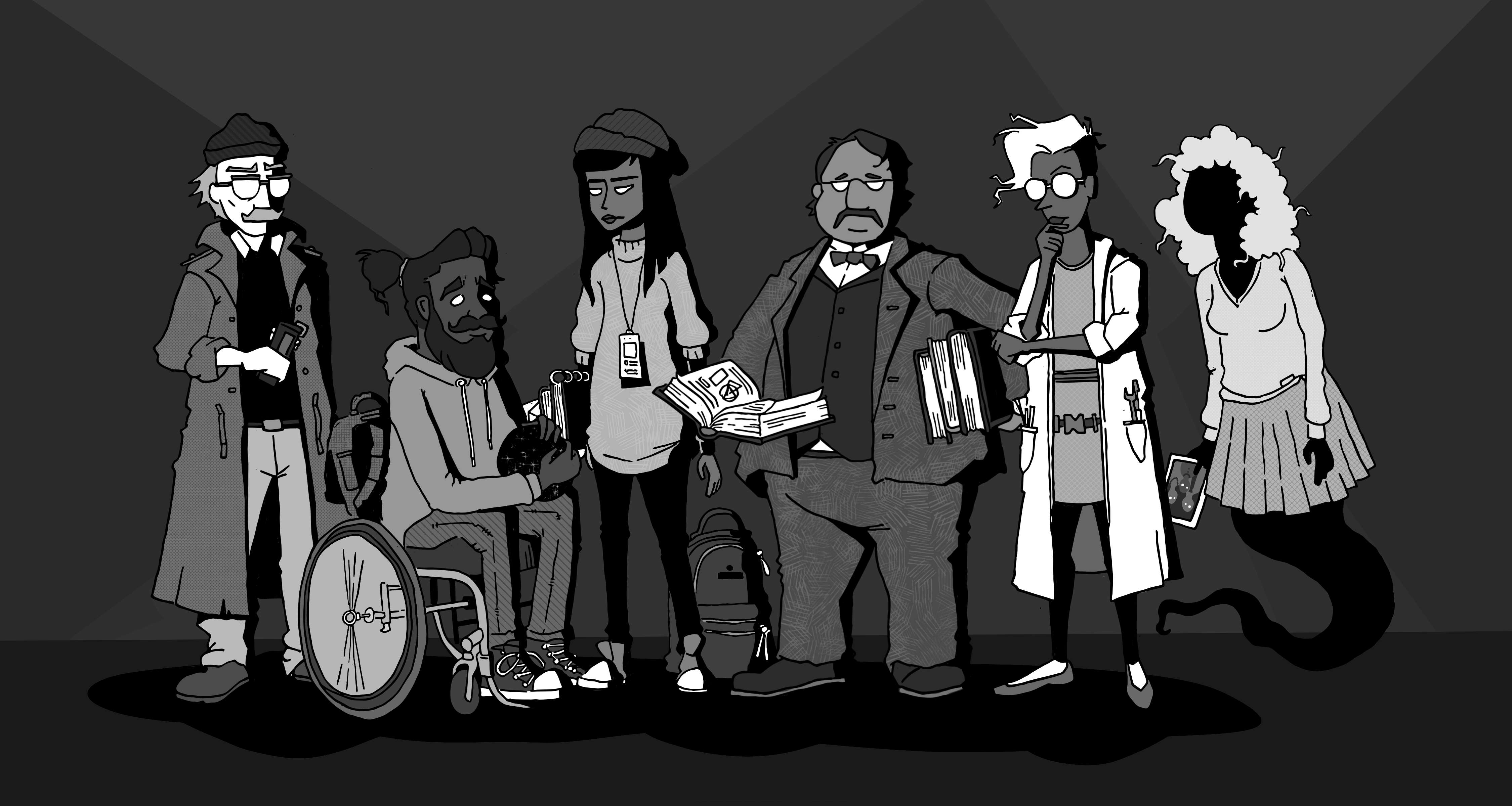 Paranormal Inc. takes it inspiration from a host of ghost themed media like Scooby-Doo, The Haunting of Hill House, and Ghost Hunters. Mysteries provided for Paranormal Inc. cover a variety of themes and tones, so there is something for every taste! Additionally, the game includes guidance for creating your own mysteries to play through!

Paranormal Inc. includes a core rulebook, 5 mysteries, and both printable and form fillable playbooks. The game is screen reader friendly!

If you are looking for a physical copy of Paranormal Inc., you can find them here.
Purchase
In order to download this game you must purchase it at or above the minimum price of $15 USD. You will get access to the following files:
Paranormal_Inc_Layout_Digital-2.pdf
5 MB
Paranormal_Inc_Antenna 8.pdf
994 kB
Paranormal_Inc_AnotherNightAtTheWhalingMuseum.pdf
990 kB
Paranormal_Inc_PhantomOfThePhantomOfTheOpera.pdf
987 kB
Paranormal_Inc_TheHauntingAtHaverdashHotel.pdf
975 kB
Paranormal_Inc_Playbook_TheBookworm_Interactive.pdf
1 MB
Paranormal_Inc_Playbook_TheBookworm.pdf
1 MB
Paranormal_Inc_Playbook_TheGhost_Interactive.pdf
1 MB
Paranormal_Inc_Playbook_TheGhost.pdf
1 MB
Paranormal_Inc_Playbook_TheIntern_Interactive.pdf
1 MB
Paranormal_Inc_Playbook_TheSceptic.pdf
1 MB
Paranormal_Inc_Playbook_TheSceptic_Interactive.pdf
1 MB
Paranormal_Inc_Playbook_TheMedium.pdf
1 MB
Paranormal_Inc_Playbook_TheMedium_Interactive.pdf
1 MB
Paranormal_Inc_Playbook_TheIntern.pdf
1 MB
Paranormal_Inc_Playbook_TheScientist_Interactive.pdf
1 MB
Paranormal_Inc_Playbook_TheScientist.pdf
1 MB
Paranormal_Inc_MidnightFeast-2.pdf
1,003 kB
PI General Moves Reference Sheet.pdf
1 MB
Community Copies
Support this game at or above a special price point to receive something exclusive.
Community Copies
These are free copies that are available to people experiencing financial difficulty, generously donated by Kickstarter backers and through tips when the game is purchased!

If you believe you qualify for a copy, then you do! Please enjoy and spread the word about the game!
Copies for Paranormal Inc. Jam
These are free copies of the game available to people participating in the Paranormal Inc. Mystery Jam!
Comments
Log in with itch.io to leave a comment.
I'm not sure I quite get "backpack". Are the things you can have there the stuff on the playbook moves?
Paranormal Inc. is actually my favorite Carved From Brindlewood game and the one that makes me totally get the investigation mechanic.
Checks this one out you guys. It's a real great game.
Go for it! it's a very cool game !! :D
Hi, when rolling on the Theorize move it says "roll plus the number of Clues found, minus the mystery's complexity". Does that mean that if the complexity is 4, and we found 3 clues, we add +1 to the roll because the 3 of the clues gets subtracted from the 4 of the complexity?
No, in this case you would roll -1. Because it's the number of clues (3) - the complexity (4).
In order to gain a positive on the theorize roll you must always find more clues than the complexity
that sounded very confusing and made no sense. would probably help if i played lol
is "taking" a personal haunting different from "marking" one?
No, they mean the same thing.
So glad you are enjoying it! Thank you!
Is there a superfluous box in front of the miss result on The Scientist playbook (pg. 39)?
One of the intern's moves refers to being able to use it "once per turn." Do you mean scene or session, instead? I couldn't find a mention of turns anywhere else in the book.